AN UPDATE FROM SOS IN UGANDA - DECEMBER 2021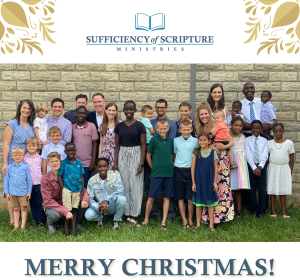 The Hope Amidst the Havoc
Christmas Devotional by Shannon & Danielle Hurley
Christmas! The most wonderful time of the year! "What's so wonderful about it?" you may ask.
Christmas may elicit your most painful memories as you try to endure this season without loved ones. Here in Uganda this year, the Christmas season has brought unexpected suffering in our organization as we are coming alongside unwanted children, broken families, and terminal illness.
These deep trials don't feel very magical and cozy. They are confusing and heart-wrenching for us. So how do we celebrate the joys of Christmas when we are surrounded by havoc wreaked by sin?
Living in this sinful world actually forces us to celebrate Christmas. Jesus' very name reveals the purpose of Christmas. The angel said, "you shall call his name Jesus, for he will save his people from their sins" and "they shall call his name Immanuel (which means, God with us)." Christmas happened because we have sin.
Jesus was born "that man no more may die, born to raise the sons of earth, born to give them second birth. Hark! the herald angels sing, 'Glory to the newborn King.'" And "no more let sins and sorrows grow, nor thorns infest the ground; He comes to make His blessings flow far as the curse is found."
Christmas reminds us that there is hope for sin. Hope for the sin that destroys lives, brings pain, and even causes the cursed effects of this world we live in. Christmas shouts that this is all temporary and that one day this world will be made new because Jesus will come again to "rule the world with truth and grace and make(s) the nations prove the glories of His righteousness and wonders of his love."
And in the meantime, while we wait for His coming, we can walk through the hardships of this life with Immanuel. God with us indwells us. We are never alone. We always have Him to comfort, guide, help us. Our Wonderful Counselor has come.
So celebrate! No matter what painful reminders you are walking through this Christmas, you are not alone. Immanuel is with you.
Here at SOS Ministries, we invite you to join us as we CELEBRATE CHRIST!
Merry Christmas!
With Love, Joy, and Peace,
Shannon & Danielle Hurley
It is the gospel of Jesus Christ that binds our hearts in trusting collaboration (co-labor). Below are 12 outcomes of that collaboration in the last year. Of course, God did so much more than this simple list. Yet, this list is certainly what God has done, and we glorify him for the fruit. Thank you for the trust and care you demonstrate by praying, giving and going.
Because you Pray, Give and Go…
The Gospel was preached, God's Word transformed lives and souls were brought under the Lordship of the King of Creation – Jesus Christ.
Suffering was relieved, illnesses were cured, disease was prevented, and babies were safely delivered, as the Gospel went forth throughout the community.
A trackless jungle is transformed into a graded and leveled land to build a high school for the upcoming classes from Legacy Christian Academy.
Teachers continue to educate children while lock-downs persist, deepening relationships with families through home visits and instruction.
Marriages are transformed by the power of God's Word accurately applied to life, and children see hope for the future in their homes.
People with disabilities are lifted from crawling on the ground and their families encouraged by providing mobility devices and the truth of God's purpose in our suffering.
Thousands of miles of travel in the air and on dangerous roads is accomplished to bring together the body of Christ for the benefit of the saints across Uganda and east Africa.
Gifted servants of the local church serve hundreds of meals every week to SOS staff, workers and missionaries, thus stabilizing the daily labor of the ministry.
God's sheep are cared for by shepherds who are trained to more accurately feed and nurture the flocks under their supervision.
Local Churches across the nine regions of Baptist Union of Uganda received instruction to help them mature and be salt and light in their communities.
Children in America were able to impact children in Uganda and gain a vision of how the Body of Christ can mutually edify and support those that they may not meet until heaven.
Many were saved, baptized and discipled as Community Bible Church of Kubamitwe grew during the Covid Pandemic having more than 500 in attendance at Easter.
We hope this sample is encouraging. God has the complete list and is safeguarding it for our amazement in heaven. We honor and glorify God for his kindness to let us see a portion of the fruit of his energy at work in us (Colossians 1:28-29). Let us walk in faith as we see together what God has in the year to come!
---